Collaborations
SILENCE
Revisiting women's civil activism in the 90's in Kosovo was a workshop for artists, theatermakers and sociologists around found footage images of female protests during the 90's in Kosovo. Silence was a theme and tool for the participants to analyse the images and to transform them to working material for performances or art pieces.

[Silence]: Revisiting women's activism in Kosovo in the 90s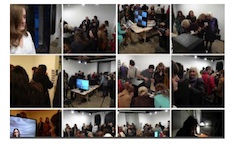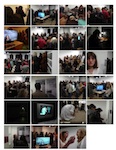 POLIMETRIA
Co-directed[with Ely Dagher] Polimetria, a music video that was produced for Richard Colvaen. The video reached up to 45 000 views on Vimeo.
ORANGE PERFORMANCE WITH SYMBOL
Piece by Marc Arthur(a New York based theater director associated to Performa) performed at the Xavier Hufkens Gallery in Brussels.
L.O.V.E
urban ikebana/ landart workshop for teenagers
This workshop was constructed as a dialogue with youngsters to raise their ecological awareness. It is a dialogue on the human relation to nature and love. With ecological materials we make urban ikebana sculptures that are biologically decomposable within the public space.
SSSERPENT
A snakelike creature moves in a melancholic end-of-summer landscape shifting back and forth between its animal and human form. This visual choreography is an ode to the sensual movements of snakes.
death of a poledancer revisited
Eisa Jocson's solo performance "Death of a Poledancer' captured and revisited by Shelbatra Jashari, Hans Bruch Jr and Sabrina Lapeyre.
Corrupted C#n#m# LOG.1

A video-essay created on the work of Angelo Vermeulen with cockroaches. We experimented on creating digital noise on non-material images, just like experimental filmmakers were doing at the start of the 20th century. Corrupting digital image files is a huge challenge and working with cockroaches was a method that actually did provide recuperated, corrupted files that could be replayed. Jewels were created for the cockroaches to magnetically corrupt the digital files.
BORROWED SCENERY
Borrowed Scenery is about the dissolution of borders between reality and fiction, mysticism and technology, nature and culture. It is a story that wants to become reality. By 'borrowing' the setting of everyday life in the city, it attempts to infuse our habitual activities, such as walking or eating, with a vision of a possible future where insatiable economic growth is superseded by an atmosphere-based economy, where nature has a voice.
Find out more at FOAM
THE FLOTILLA
The Flotilla is both a vessel and a community for the revitalisation and invigoration of people, places and cultures. As a world grown and maintained by its members, it embodies an emergent collective intelligence that lives, moves and adapts like a complex organism – an engaging example of how an interdependent community can thrive in uncertain times. Find out more at FOAM
Les Mariees - Everafter, a performance blog
Everafter is a performance blog about a piece taking place in june 2014. Boucalais Marriage is a 3 day walk in the north of France within the framework of a project by Various Artists. I have been invited to take on the role of the bride.
Les Mariees